A Forest Runs Through It
How NC State's Schenck Forest Became A Source of Research, Recreation and Restoration in the Heart of Raleigh
Green spaces such as parks, gardens and forests are emerging as essential tools to improve public health and address environmental challenges in communities worldwide, especially in metro areas with extensive urban sprawl. These spaces not only facilitate physical activity but also filter out harmful air pollution and provide habitat for wildlife.
In Raleigh, where the population has grown faster than nearly any other major American municipality in the past decade, city dwellers who are weary of the concrete jungle can enjoy more than 9,000 acres of green space, including NC State's Carl Alwin Schenck Memorial Forest.
The forest, which is more commonly known as "Schenck," is a 245-acre property located just 10 minutes from the university's main campus and about eight miles from downtown Raleigh.
Since its establishment, Schenck has been managed by the College of Natural Resources as a teaching and research site where students learn about forest management and the associated benefits, ranging from water quality to wildlife to carbon sequestration. It has also become a popular recreation spot for Raleigh residents who enjoy its walking trails and picnic areas.
"The Schenck is somewhat of a hidden gem, and it holds a place in the hearts of the faculty, students and neighbors that frequent it," said Elizabeth Snider, a 2005 Master of Forestry alumna and current Forest Manager at the College of Natural Resources.
Planting the Seeds
Before it was a popular outdoor destination, the land where Schenck now sits was once part of North Carolina's Camp Polk Prison Farm.
In 1937, the state turned over a portion of the farm to NC State University, according to Snider. The university subsequently named the property, "Richlands Creek Forest," and planted 92 acres of loblolly pine.
Nearly two decades later, the university renamed the forest in memory of Dr. Carl Schenck, the founder of the Biltmore Forest School, the country's first practical forestry school. Schenck's ashes were scattered in the forest following his death that year, and a bronze memorial plaque was installed and mounted on a granite boulder near a picnic area.
Today, Schenck Forest plays a vital role as an outdoor laboratory for a number of academic programs including forestry, botany, mycology, ecology, soils, recreation and wildlife biology, according to Snider. The forest hosts multiple classes and active research projects, including tree growth, genetics, hydrology, soils, and wildlife and habitat monitoring.
Schenck, which is open to the public during daylight hours, also features a teaching arboretum and several walking trails that allow the college to educate the public about forest management practices. Some trails even pass through sites where a variety of these practices can be observed firsthand, including an upcoming timber harvest that aims to restore one of North Carolina's most endangered tree species.
Saving a Species
Beginning next year, the college will harvest approximately 23 acres of timber from Schenck, accounting for less than one-tenth of the forest. It is the first of several operations that the college plans to conduct at Schenck in the coming years, including a thinning to prevent insect outbreaks.
Snider said the upcoming harvests will begin to restore the health and balance of the forest habitats, and ultimately improve the diversity of teaching opportunities for students. All proceeds from any resulting timber sales will go to support the continued management of the forest for education and demonstration purposes.
"Once the harvest is complete, the Schenck Forest will remain a quality outdoor classroom, a healthy and thriving habitat for wildlife, and a beautiful place to walk in the woods," Snider said. "It will also become a refuge to one of North Carolina's most endangered forest communities — the longleaf pine."
First identified as a species in 1768, longleaf pine ​(Pinus palustris) i​s an evergreen conifer with thick, scaly bark and needle-like leaves. The species once covered an estimated 90 million acres across the southern United States but now only covers a fraction of its original range — 4.3 million acres, to be exact. The reason behind this decline involves many factors, including land-use change and fire suppression.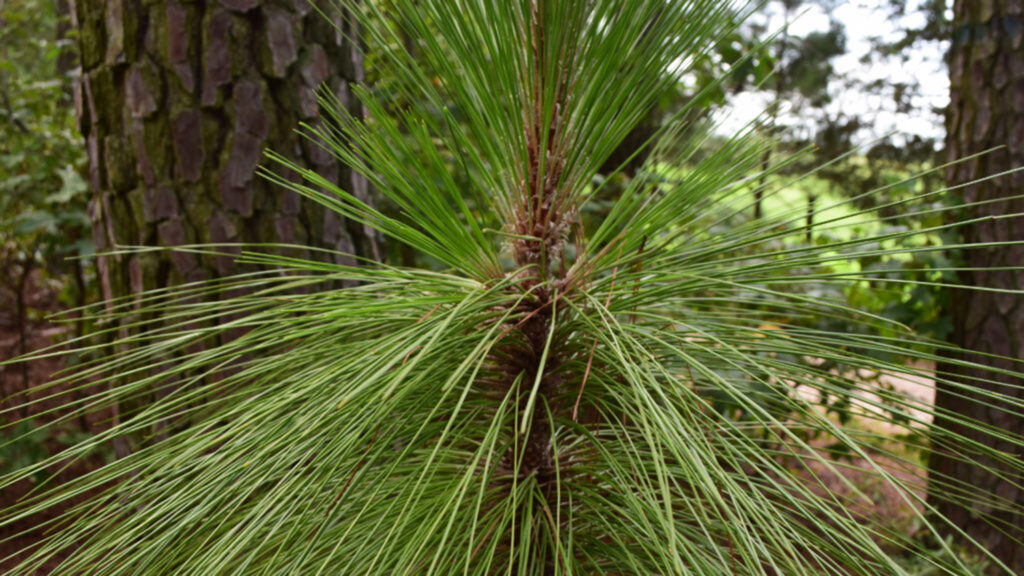 Snider and other members of the college's forest management team plan to conduct a prescribed burn after the harvest to prepare the site for longleaf pine and to reduce loblolly and hardwood competition. They will then plant approximately 17 acres with Longleaf pine seedlings in an effort towards restoring this important tree species. The remaining six acres will be harvested for the regeneration of shortleaf pine.
While there may be some initial disruption to animals in the affected areas, the harvest is expected to enhance wildlife habitat within the first three years of its completion, according to Snider. In fact, much of Raleigh's native wildlife (whitetail deer, turkey, quail, woodcock, etc.) actually prefer disturbance and early successional forests. These habitats provide forage, shelter and refuge for animals.
"The College of Natural Resources is excited about the many ways that Schenck Forest will continue to benefit the community and contribute to the quality education of the next generation of responsible and skilled foresters," Snider concluded.
For more information about the harvest, please contact NC State's Forest Assets Management Team at (919) 515-7321 or cnr_forests@ncsu.edu.